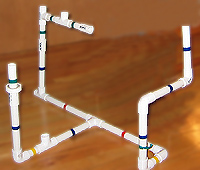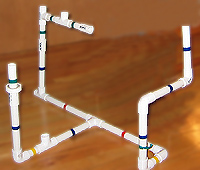 My kids dread marathon trips to Home Depot as much as I do, but an outing to the quirky, local hardware store is an altogether different matter. I'm talking about the mom-and-pop operation a few blocks away — the one that, in addition to the requisite nuts, bolts, and tools, sells birdseed and penny candy at the front counter. My kids can't get enough of the latch section (a five year-old's tactile dream come true) and the plumbing parts.
Speaking of which, PVC piping makes ideal construction material. Think of the marble run possibilities. Or the sheer sculptural potential. Or the summer water play. A few bucks' worth of pipe and some connectors should set you and your kid up just fine. Dana of Mombian detailed how she created a PVC construction set.
Mombian has an entire archive devoted to hardware store toys. Your kids may never look at Home Depot the same way again.
Asha Dornfest is a guest GeekMom and the publisher of Parent Hacks.