This past Saturday (January 5, 2008) we spent a day at Disneyland on the way to dropping our eldest daughter off at college. It was a first-time Disneyland visit for our son, who is 11, and the second for the rest of us. I detest waiting in lines, so I avoid theme parks, even, or maybe especially Disneyland. But everyone, particularly an 11-year kid, should visit this icon at least once, so we booked the visit and ordered a one-day "hopper" pass online. (Printed out our the e-ticket.) Along for the fun was our second daugher, 17. The day was scheduled to be a holiday peak time, with the park opened from 8am to midnight. 
Did I mention I hate to wait in line for anything and will usually ditch a line and do something else if I can? There was no way I would ever wait an hour for a 4-minute ride. I needed some way to minimize the wait for the Disney rides on a peak holiday visit. Googling around I came across this cool software program that does just that. 
RideMax is a Windows only app written by an obsessive Disney fan who feeds into it the latest historical data on wait times for each ride on the precise day(s) you are going. The program uploads this info each time you open the program. You choose the rides you want, and break times, and then it will compute the optimal sequence of rides. For the minimum wait, you tell it you are willing to send a "runner" ahead to secure Fastpasses for your group (which we were) and then it takes into account the time it takes to walk to the next ride it designates.  Your entire agenda is detailed down to the minute.
I spent an afternoon honing, tweaking,and re-running our schedule, until it seemed the best we could do. When I ran ours, it was an incredibly long list because of the very long day (16 hours!) and our ambition to do both Disneyland and California Adventure (which is more appealing to the teenagers). An itinerary looks something like this: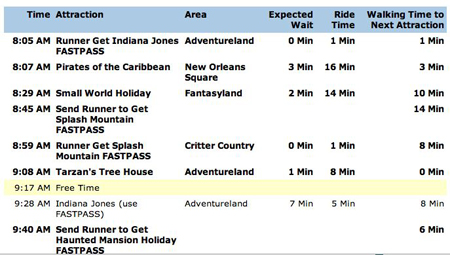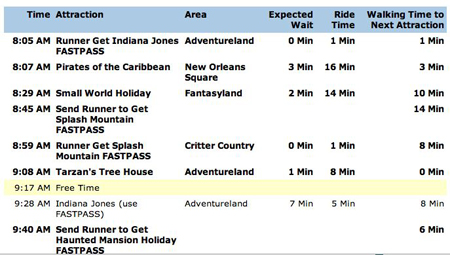 I felt like the ultimate GeekDad as we dutifully headed to the gates with my printed schedule in hand. But even waiting at the gate, something was amiss. There was no line. The day before had been the major California winter storm. Traveling down Rt. 5 we watch a semi-trailer directly in front of us tip over, lifting all its rear wheels, but righting itself at the last second. A minute later, another semi-trailer lay flat on the highway. So the following day, overcast and gray, the crowds did not appear. 
We happily enter and began the drill. Runner sent ahead to get the Indiana Jones Fastpass, etc. Only there was no lines. By the third ride, I reluctantly threw away my hard-earn itinerary; there was no need for it. For the rest of the day, all 15 remaining hours, we never waited in line for a single minute, in either Disneyland or Adventureland. We rode about half of the rides a second time. We saw all the major shows, parades, fireworks, and street performances. I mean we did everything, a feat possible if you have 16 hours and no lines. 
So in the end I have no idea if RideMax actually works. Testimonies on other Disneyland fan boards claim they could make 20 rides and not wait more than 10 minutes during summer days. If anyone else successfully uses it, please let me know and I'll run it in Cool Tools. 
One GeekDad trick. A lot of the fast rides will snap your picture near the cllmmax and then display the snap at the end of the ride in hopes you'll buy a print. (Buzz Lightyear is an exception in that it will allow you to email yourself the picture for free.) I carried a pocket camera and just shot the screen each time which yield passable photos (the originals weren't that sharp to begin with). An example from the Screamin':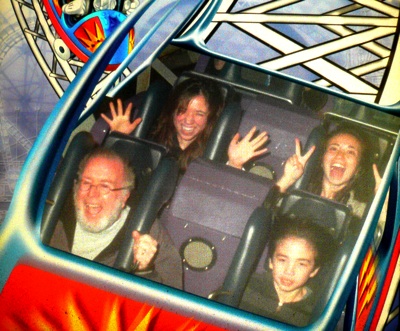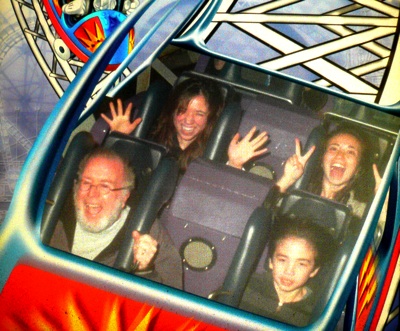 Last GeekDad tip. By far the coolest experience for me was Soarin' Over California, which manage to suspend me in the center of a panoramic screen while flying very low across the landscapes of California. The imagineers manage to do it while avoiding the kind of motions that induce nausea, and yet keep you feeling you are actually flying like a bird. I have to say it was the closest experience I've had to virtual reality, and this without any headgear. The "It's Tough to be a Bug" 3D experience (right word) was also very geeky and not to be missed.