Subscription "boxes" are popping up all over the internet these days! From makeup to nerd gear, there are so many out there! I looked into yarn subscription boxes but most of them were $32+ a month like Yarnbox, Fiberista Yarn Club, and Yarn Crush.
These boxes are definitely appetizing, but as a mother of three small children, I just don't have the money for that. In September, I saw a suggested post on facebook featuring the Jimmy Beans Wool Beanie Bag. Beanie Bags debuted in October, and I was lucky enough to grab one before they ran out. For $10 a month, this sweet little bag of yarn and goodies is a steal! ($10 USA, $15 international.)
When I sew, I make tiny things. Most of my yarn work is amigurumi and other small projects. I knit and crochet more than any other craft, but yarn can get pricey.
I tend to go for cheaper pretty yarns like Red Heart Unforgettable, Red Heart With Love,  Lion Brand, Caron Simply Soft, and my favorite, Peaches and Cream. These yarns are easily obtained near my home, are very affordable, and come in a plethora of colors. However, there are times I would really like to have nicer yarns made of wool, silk, bamboo, alpaca, and other fibers. As an artist, I want to work with a variety. Beanie Bags provide me with just that.
With the subscription being new, they've asked people to provide feedback. It was really neat to see that some of the feedback I had provided had been addressed and changed in December's bag.
Each bag includes a card with information about the yarn on the back (this photo feature's November's card since I've misplaced the proper one). The name, weight, cost, and dye process of each skein is provided. Before, only digital patterns were included. Now they send a full-color pattern on high quality gloss paper, crochet on one side, knit on the other. Also included were a thank you card with a half-off coupon code and information on a KAL (Knit Along) taking place in 2016. As always, a sweet little slip of paper with the signature of who hand-wound your yarn samples hides in there too.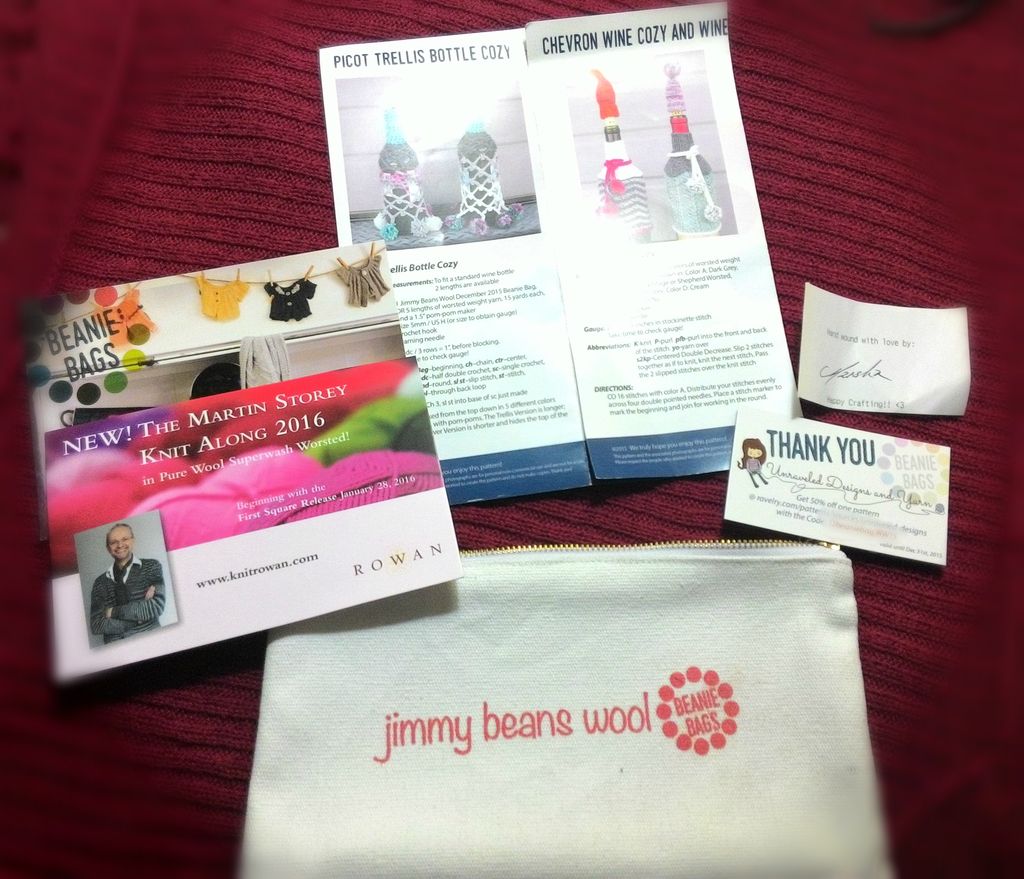 The bags have come with some standard notions, a darning needle, stitch marker, some buttons, wash/soaks, whatever is needed to complete the patterns provided. December's bag came with an exceptional extra that I didn't realize even existed, a pom-pom maker that has three different sizes! The nifty little gadget pops into itself to store as two pieces but breaks apart into six. They also provided five samples versus four as in previous months. Added bonus–it reminds me of a miniature shield!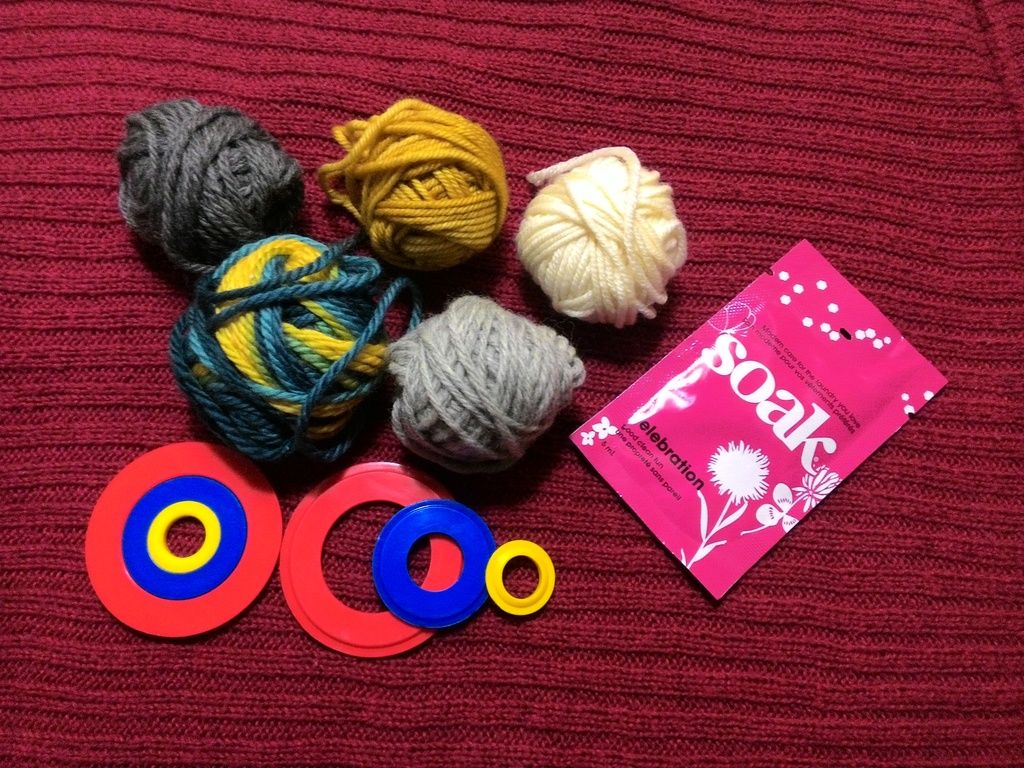 Yes, all of the goodies were wonderful. However, the thing that excited me the most about this month's bag was the sample of the Firefly/Serenity inspired Lorna's Laces Shepard Worsted Yarn! I've been in love with this limited-edition yarn since it debuted in September. I thought about purchasing some for my birthday but did not want to devote to a full skein. Note: Not everyone receives the same colors of yarn. Here she is in all her beauty:
The bag these little guys arrive in is a simple canvas zippered bag with the Jimmy Beans logo on one side, and a cute design on the other.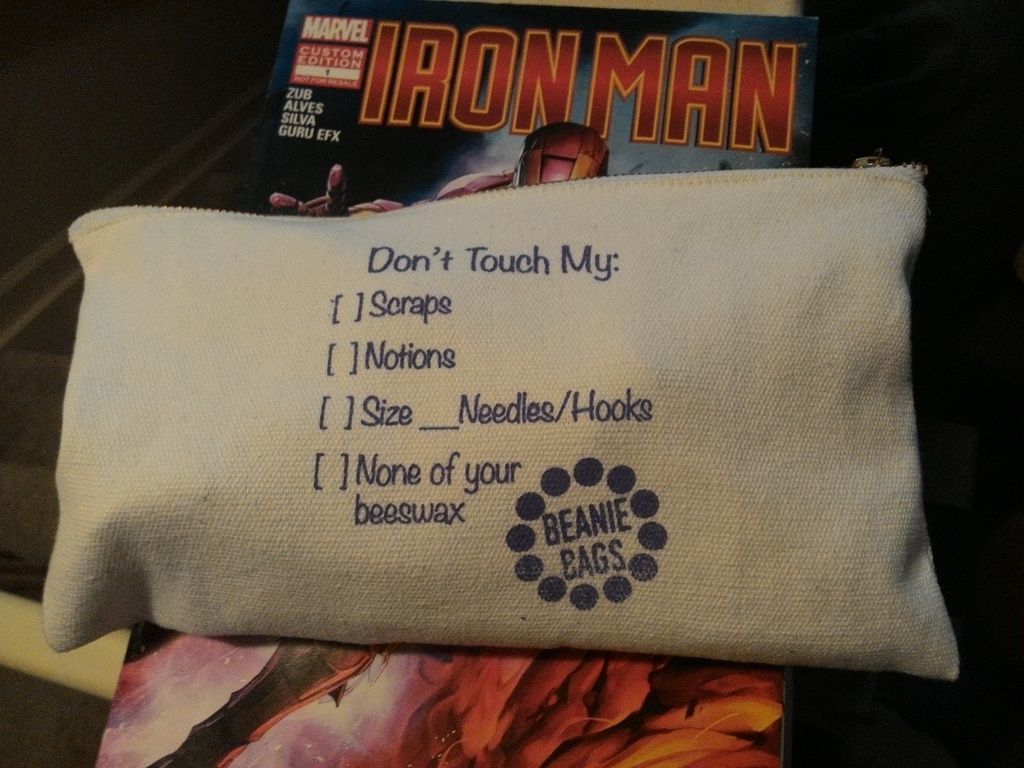 So what's missing from this affordable yarn subscription bag? Not a gorram thing. $10 a month ($15 international) for happy mail filled with fiber goodness? You can't get much better than that.
This yarn subscription is a fun way to experiment with different yarns, get inspiration, and broaden your horizons. It would be great for people new to knit and crochet as they could build their stash of yarn, notions, and patterns. Gift subscriptions are also available for purchase.
Lastly, the customer service is very pleasant. All the ladies over at Jimmy Beans are so sweet! I'm looking forward to the coming months, to get the goodies and see how the Beanie Bags evolve!
Have you tried Beanie Bags out? What did you think? Looking for some small-yardage projects for your samples (or remnants)? Check out their Ravelry Small Yardage Bundle. Also make sure to check out the Jimmy Beans Wool YouTube Channel for tutorials and information. Stay shiny and keep flying!
Featured photo: Jimmy Beans Wool, used with permission